Extraction
RSHG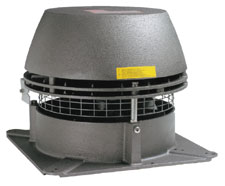 Chimney Fans

Design and Install complete power flue systems. Many of our systems consist of a chimney fan with an automatic controller which guarantees the optimum chimney draught irrespective of the position, dimensions or height of the chimney.
We specialize in the design & installation of flue systems & chimney extracts for both solid fuel & gas.



.
This is a mechanical draught fan to be installed at the chimney termination point. Various fans can be fitted vertically or horizontally assuring a negative pressure in the entire chimney or stack system, discharges horizontally (vertically, if side-wall vented) at a high velocity.
The fan housing is hinged at the top and can be opened for easy service and access to stack. For use with gas or solid fuel. Mechanical draught fan for installation at the chimney termination point, vertically or for side-wall venting.
For use with gas or solid fuel.
Geoflame use a sophisticated time delay system that enables both fire and fan extract unit to be controlled by one remote hand set. This can also be integrated within most home automation systems.
i.e. Crestron, AMX, And Lutron Systems.   
EW40 - new wireless controller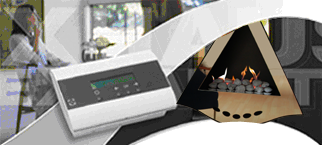 With a chimney fan and the EW40 controller you can feel cozy and get the best out of your fire - without the traditional difficulties of lighting, smoke or ash.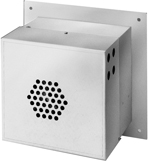 RSG 200 Wall Fan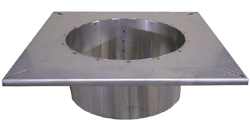 EXHAUSTO Steel Chimney Adapter is used when installing a chimney fan on the top of a single, double or triple wall steel chimney. The adapter is designed to slide into the steel chimney for a tight fit. The outer diameter of the collar is 3mm smaller than the inner diameter of the steel chimney and has a 127mm deep collar.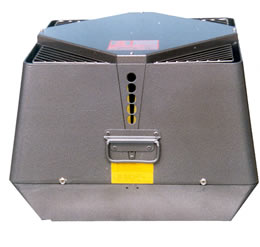 . are registered

EXHAUSTO

™

agents and installers offering a high quality chimney solutions to the trade & public.
Custom built gathers for focal fires in restaurants, hotels, apartments and new builds.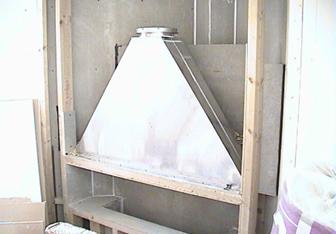 Bespoke Power Flue Systems by Geo Flame Ltd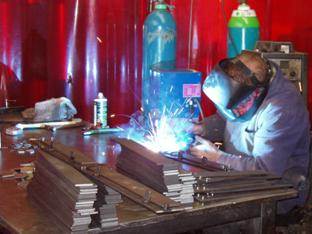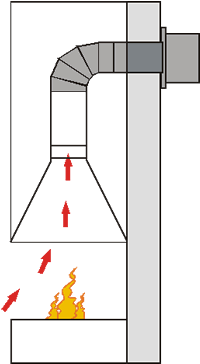 Twin-wall Flue Systems
Technical/Specifications
DESCRIPTION
Our twin-wall stainless steel flue systems are a high quality, pre-fabricated chimney
system suitable for solid fuel and gas appliances with flue gas temperatures up to 360°c continuous firing. The system consists of straight lengths and associated fittings and is available in six different internal diameters from 175mm to 300mm.
CONSTRUCTION
This system is a twin wall insulated chimney constructed generally as detailed below. The inner liner is manufactured from stainless steel grade 316 - 0.46mm, whilst the outer casing is stainless steel grade 304 - 0.46mm. The insulating material on internal diameters 175mm to 400mm is a high quality silica based powder and ceramic wool which ensures optimum performance. The sockets and spigots are manufactured from stainless steel grade 316 - 0.46mm, their construction having bayonet type engagement which lock rigidly together with locking bands. The inner liner is an overlap resistance welded construction and is fixed to the upper male spigot only. The outer casing is lock formed and is joined to both the male spigot and female socket end caps. This form of construction allows the inner liner to expand and contract with the varying temperatures without affecting the outer casing.
Flue Liners For Solid Fuel & Gas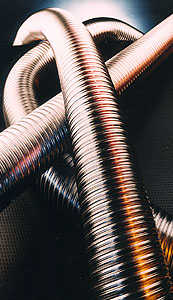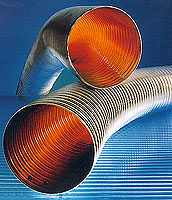 We Install Double Skinned Stainless Steel Flexible Chimney Liners